If you hired a professional biohazard cleaning company like Single Source to clean and disinfect your property against infectious viruses and diseases, it's important to understand that once the initial cleaning service is complete, it's your responsibility to continue the cleaning and disinfecting process on your own. Implementing a daily or hourly maintenance regimen dedicated to cleaning and disinfecting high-touch objects and surfaces (such as doorknobs, handles, and tabletops) can help prevent the spread of infectious diseases and keep your property clean and safe.
What Supplies Do I Need?

Disposable nitrile synthetic rubber gloves in a range of sizes. Gloves that are too big have gaps that make it easy for contaminants to get inside. When they are too small, they can rip or tear.
Detergent, paper towels or disposable cloths, and heavy-duty trash bags.
Disposable coveralls (optional).
Masks and goggles (to protect yourself from exposure to disease and cleaning chemicals).
Clear Polypropylene/Polyethylene Trigger Spray Bottles, 24 oz. or 32 oz.
What Disinfectants Should I Use?
Mix a basic bleach solution: To make a bleach solution, mix 1 tablespoon of bleach to 1 quart (4 cups) of water. For a larger supply, add ¼ cup of bleach to one gallon (16 cups) of water. Use the solution within 20 minutes. WARNING: Don't mix bleach with anything other than water; otherwise, it could set off a dangerous chemical reaction. For instance, bleach + rubbing alcohol is a highly toxic combination.
Isopropyl rubbing alcohol can also be used as a disinfectant, as long as it's at least 70% alcohol, according to the CDC. The alcohol concentration will be listed on the bottle.
An undiluted household hydrogen peroxide spray is very effective. The CDC states that this destroys rhinovirus infections which are much harder to destroy than coronaviruses. It's also a good option to use on soft surfaces like rugs and upholstery.
You can also use household disinfectants if they have been EPA-approved to be effective against Coronaviruses or other infections. These include Clorox cleaner and bleach products and Lysol disinfectants
For surfaces that corrode or are damaged by bleach, use multi-surface cleaning products that are effective against the specific virus/bacteria but won't damage specific types of surfaces.
Steps for Cleaning and Disinfecting Hard, Non-Porous Surfaces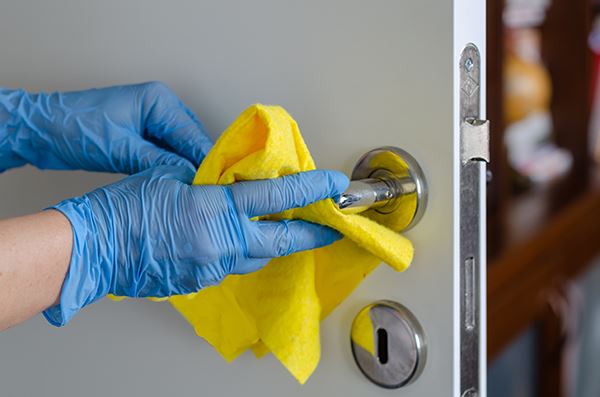 These include stainless steel, floors, kitchen surfaces, countertops, tables, desks, chairs, sinks, toilets, railings, light switch plates, door handles, computer keyboards and accessories, remote controls, and gym/recreation equipment.
Clean the surface with soap and water to remove all visible debris and stains.
Rinse the surface with clean water and wipe with a clean towel. DO NOT reuse towels on more than one surface. A clean or new towel must be used on each surface to avoid spreading contaminants.
Be sure to follow labeled instructions on disinfectant containers.
To effectively kill the virus, apply the disinfectant. Make sure the surface stays wet with the disinfectant for at least 10 minutes before wiping with a clean towel. Rinse with water and let the surface to air dry. Rinsing the surface with water following the use of a disinfectant is critical if the surface is in a food preparation area.
Remove gloves and place them in a trash bag and discard them.
Always wash your hands after removing the gloves and or when handling any contaminated material, trash, or waste.
For electronics, such as smartphones, tablets, touch screens, keyboards, and remote controls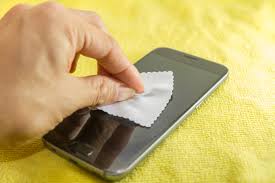 Consider putting a wipeable cover on electronics.
Follow the particular electronic manufacturer's instruction for cleaning and disinfecting.
If no instructions are available, use alcohol-based wipes or sprays containing at least 70% alcohol.
Dry surface thoroughly.
Steps for Cleaning Soft, Porous Surfaces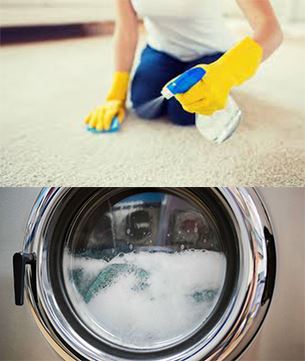 Soft surfaces can include towels, rugs, carpeting, drapes, curtains, upholstery, and clothing.
Clean the surface using soap and water or with cleaners appropriate for use on these surfaces.
Sanitize using a spray of at least  70%  isopropyl alcohol or household strength hydrogen peroxide.
Air dry completely.
If items can be laundered, machine wash  according to the manufacturer's instructions, using the warmest water setting allowed
Tumble dry items completely using high heat, if possible.
If you are an employer, it's your responsibility to: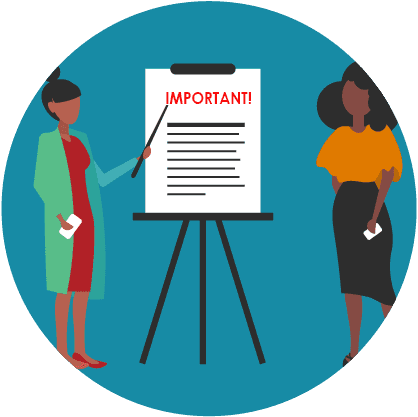 Have policies and procedures about infection control in place.
Provide policies, procedures, and training to employees on infection control.
Provide all infection control supplies and personal protective equipment (PPE) to employees as required.
Questions?
Contact us at 274-4444 or by clicking here.
Article Source Material: www.cdc.gov; www.epa.gov; Cleaning and Disinfecting to Prevent COVID-19 March 2020 Boston Public Health Commission Infectious Disease Bureau www.bphc.org
The post How to Maintain the Hygiene of a Professionally Cleaned & Disinfected Property appeared first on Single Source Disaster Recovery Specialists.