Eco-friendly processes that reduce, minimize, or do no harm to living beings or the environment have become important issues for consumers worldwide. As a result, people are choosing cleaning products that are labeled green, non-toxic, or natural. While most of these products are fine for everyday household cleaning, it's critical to be aware that the vast majority do not have the powerful disinfection abilities necessary to kill harmful viruses and diseases like SARS-CoV-2, the virus that causes COVID-19.
Cleaners and Disinfectants—What's the Difference?
When the goal is to disinfect a surface against infectious diseases, the best way to distinguish between cleaners and disinfectants is to make sure the product has an EPA registration number printed on the label. If there isn't an EPA number on the label, it is not a tested and registered disinfectant. It is safe to use the product to clean up dirt and other organic matter, but keep in mind that it will not work to disinfect against viruses and disease.
Why Is the EPA Involved?
The EPA's mission is to safeguard and protect human and environmental health. Headquartered in Washington, D.C., the EPA is responsible for creating standards and laws that promote exactly this.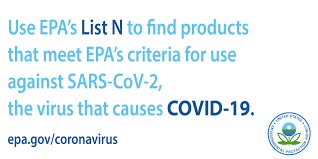 The EPA takes the destruction of contagious viruses and diseases very seriously and has developed a searchable database of disinfection products available to the public that have been laboratory tested and are proven effective against the coronavirus and other infectious diseases. The disinfectants on this list mostly use harsh synthetic chemicals like quaternary ammonium to kill germs. As a result, this list contains few green cleaners, with the exception of citric acid.
Some research has shown that citric acid, an organic compound that occurs naturally in citrus fruits, has antibacterial and antimicrobial properties–enough to kill some forms of bacteria, mold, and mildew. Still, it's chiefly considered a cleaning agent or microbial at best. When it comes to disinfecting (killing) harmful viruses, most natural or "green" ingredients, such as citric acid, are not as effective as their EPA-registered counterparts. That is, until recently.
A Botanical Disinfectant, Benefect, Makes the EPA's List N
Benefect is a "green" plant-based botanical disinfectant product made from a blend of thymol, an oil extracted from the herb thyme, and lemongrass oil derived from the tropical plant, Cymbopogon. Benefect is EPA tested and proven 99.9% effective in killing the coronavirus without any risk to animal and human health or the environment. It is now an EPA List N registered disinfectant. Benefect is so gentle that personal protective equipment is not a required safety precaution for application.

For commercial and residential disaster restoration jobs like sewer backups, mold infestations, biohazard cleanup, and COVID-19 cleaning and disinfection services, Single Source gives eco-conscious customers the choice of using Benefect or another highly similar botanical formula instead of harsh synthetic chemicals. Unfortunately, there are a few downsides to Benefect; one is its much higher cost per gallon than chemical disinfectants. The other is availability; because of the pandemic, there is a high demand for this product, and as a result, it is often out of stock.
Finally, suppose you want to be sure that you choose a natural cleaner that has been tested by the EPA for their effects on human health and may have a lower risk of causing asthma, irritation, hormonal disruption, or carcinogenic effects. In that case, you can pick a product from the EPA's Safer Choice list. This list is not to be confused with the EPA's List N of coronavirus-killing disinfectants. The Safer Choice list consists of cleaners that have been tested by the EPA for their effects on human health and may have a lower risk of causing asthma, irritation, hormonal disruption, or carcinogenic effects and pose the least threat among chemicals in their class. Remember: These products are fine for routine cleaning, but they are not disinfectants for coronaviruses.
If you are interested in cleaning and disinfecting your property against COVID-19 or other contagious diseases, Single Source uses only EPA List N registered disinfectants and can also use, upon customer request, Benefect or a similar botanical disinfection product as an eco-friendly alternative to chemical disinfectants.  Please contact us for more information or for a price quote.
The post Can GREEN Cleaning Products Kill Viruses and Diseases? appeared first on Single Source Disaster Recovery Specialists.