Warwick Biohazard Clean up
Cleaning up biohazard is a serious matter and can only be performed by highly trained and certified individuals. Although an area may look clean to the naked eye, Biohazards remain until the entire area is cleaned of blood and body fluids and contaminated cleaning equipment has been disinfected or disposed of safely. Only trained individuals should clean up blood or body fluids. As such, we have been placed on the State of Rhode Island Coroner's list of vendors qualified to do this type of clean-up.
ABRA Certified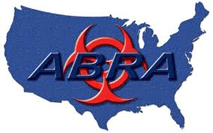 Single Source's hazmat technicians are certified by the American Bio-Recovery Association (ABRA) and specialize in safely restoring crime or death scenes back to their original, healthy environments. We're on call 24/7 and take all legal precautions necessary when cleaning death scenes to prevent any hazardous contamination. Porous materials are removed or cut out and properly disposed of. Air is cleaned and filtered and all hard surfaces are cleaned with a powerful anti-bacterial. If you are interested in cleaning and disinfecting your commercial business (school, workplace, healthcare facility) to help prevent and control an emerging infectious disease, please visit our property cleaning and disinfecting page by clicking here.
If you believe your property has been contaminated with a biohazard, please contact us immediately.

One Call Does It All
24/7 Emergency Response
Our property restoration team is available 24/7 and can provide you with a free assessment and estimate.
When you need expert disaster recovery assistance in Warwick and the surrounding areas, look no further than Single Source.