When it comes to biohazard cleaning, homeowners and businesses usually turn to specialized disaster restoration experts or biohazard cleanup companies to safely and effectively clean and disinfect properties contaminated by biological or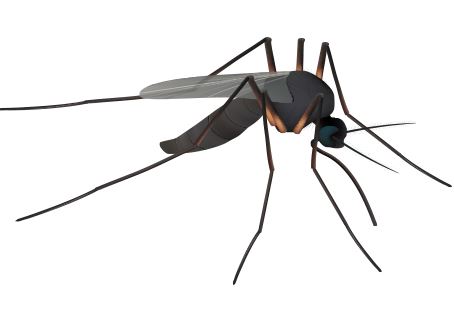 chemical substances. Yet, due to the current high demand for COVID-19 cleaning and disinfecting services, some people are unwittingly hiring nonspecialized  or "off-label" contractors to perform this critical work. Many businesses, including pest control and painting contractors, have recently shifted their business focus to include virus disinfection along with their usual services. But it begs the question: Do these contractors have the expertise required to effectively and safely clean and disinfect properties, and more importantly, can they be trusted?
Cashing in on the Pandemic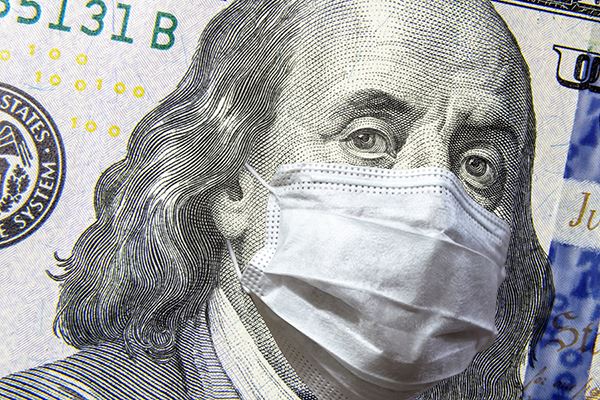 It's obvious that many of these contractors are hopping on the biohazard cleaning bandwagon because they see an opportunity to cash in on the pandemic to make a quick buck. One common factor is that they all use fogging or spraying equipment in their usual day-to-day work. And because the Center for Disease Control (CDC) advocates fogging and spraying to disperse EPA-registered virucides that combat COVID-19 and other infectious diseases, why not fill up this same equipment with virus-killing disinfectant? To them, it seems like a sure-fire way to make a killing. But what, exactly, will these companies be killing? Infectious diseases and coronaviruses? Don't be so  sure.
When You See Smoke, Think Mirrors, Too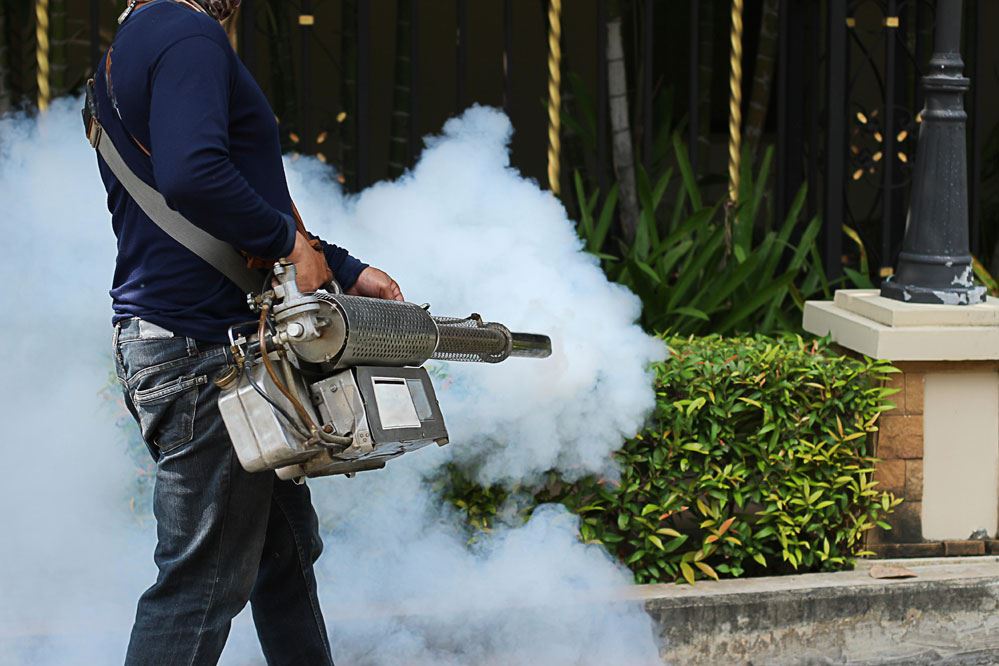 Pest control companies often use portable thermal fogging equipment to apply insecticides in hard to reach outdoor areas like treetops and crevices to exterminate or control mosquitoes. But, as the name suggests, a thermal fogger uses heat, generated by gasoline or propane gas, to vaporize insecticides into a "dry" fogging solution that, when expelled, appears as a continuous stream of thick white smoke. This is an effective method for mosquito control, but for disinfecting purposes, not so much.
According to Manufacturer's Safety Data Sheets (MSDS) and specific application instructions, most EPA-registered virucides are not recommended for use in thermal foggers that produce dry mists. According to cleaning experts, EPA-registered disinfectants are effective ONLY when sprayed onto surfaces in a wet fog or mist and ONLY when the recommended dwell times, usually from five to ten minutes or more, are precisely met.
It's All About the Microns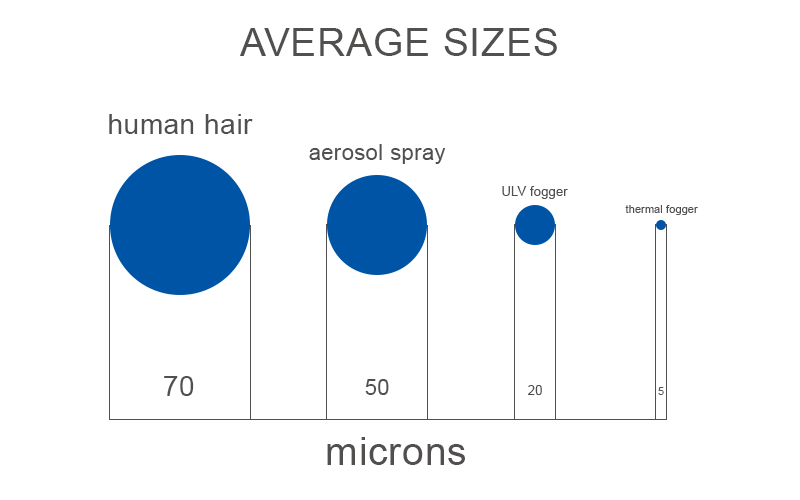 If you see a company promoting disinfecting services using a white, smoke-producing fog, be leery. This type of fog is considered dry because the mist, consisting of droplets as small as .5 microns in diameter, are too small to saturate surfaces sufficiently enough to kill a virus. Disinfectants will likely evaporate too quickly to satisfy the manufacturer's recommended dwell times on surfaces. The owner of one of the nation's leading distributors of cleaning equipment and supplies recently commented on the issue by saying that "contractors using this ineffective disinfecting technique (thermal fogging) should give their customers their money back. To offer an ineffective service and to take advantage of panicking consumers is reprehensible." It's a comment that's hard to refute. Another concern, besides the overall ineffectiveness of the service, is whether or not they have thoroughly cleaned the equipment and whether or not the fog that is sprayed inside may still contain traces of toxic pesticides.
Saturation is the Solution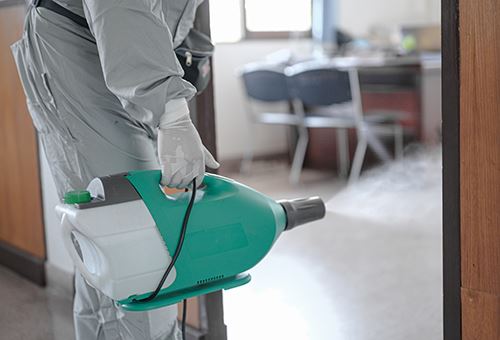 According to environmental hygiene experts throughout the world, wet fogging or cold ULV (Ultra Low Volume) fogging is the best and most effective way to apply EPA-registered disinfectants. Through pressure, ULV fogging generates a cold, almost invisible wet fog consisting of disinfectant droplets large enough to saturate surfaces long enough to satisfy required dwell times. In addition, wet fogging destroys BOTH airborne and surface-based pathogens. ULV foggers can also be used safely indoors because they do not use combustible materials to operate and thereby are not a fire hazard.
Electrostatic spraying is another method of applying a wet coating, cleaner, disinfectant, or other liquid that can be quickly and evenly applied to surfaces. Because spray particles are positively charged, it allows disinfectants to wrap around and evenly coat surfaces for complete coverage. Most painting companies use electrostatic sprayers to apply paint quickly and evenly to targeted surfaces. But, just because they have the correct equipment to apply disinfectants effectively doesn't mean they know how to do it. There are many steps in the disinfecting process that must be taken, besides simply spraying, to ensure the virus is effectively cleaned away and eliminated.
Beware Low-Cost Quotes
Finally, when considering a contractor to clean and disinfect your property against COVID-19, beware of extremely low price quotes. Never award a contract to a vendor who offers what appears to be the lowest cost per square foot. This is a huge red flag. The adage 'You Get What You Pay for' rings true here. The best practice is to hire a company experienced with biohazard cleaning, is reasonably priced, is industry-trained and certified, and has a proven long-term reputation among consumers and businesses.
Here's what to look for:
a) Is the company an IICRC Certified Firm? 

Many companies routinely make this claim in their advertising or post it on their websites. But before you accept it as gospel, be sure to go to the IICRC website and check it out yourself. IICRC stands for the Institute of Inspection Cleaning and Restoration Certification and provides state-of-the-art certification programs for inspection, cleaning, and restoration industries worldwide.
Specific to this article, the IICRC offers a crime and trauma scene certification that educates technicians on the safe and proper cleanup of blood and other infectious materials. Technicians with this specialized knowledge are highly qualified to perform cleaning and disinfecting against infectious viruses and diseases.
Please keep in mind that acquiring the "IICRC Certified Firm" designation is not an easy task. So before you hire a company that makes this claim, make sure they're telling the truth. If they're not on this list, you may want to question their honesty.  Find an IICRC Certified Firm.
b) Are They OSHA HAZWOPER Certified?
OSHA HAZWOPER training is a required training program for workers that perform activities that expose or potentially expose them to hazardous substances. This 40-hour course is specifically intended for employees and supervisors who are responsible for cleaning up and disposing of hazardous materials. Ask if you can see their certificate.
c) Are They ABRA Trained and Certified?
When hiring a contractor to clean and disinfect your property, look for experienced professionals who are certified experts in biohazard cleanup. Hiring a company certified by the American Bio-Recovery Association (ABRA) is the best and safest bet. ABRA-certified firms are required to complete biohazard-specific training, maintain liability and workers' compensation insurance, uphold OSHA compliance, and ensure proper handling of biohazardous waste in accordance with state laws and regulations. If a company isn't ABRA-Certified, they really shouldn't make the cut. Look for them here: Locate an ABRA Certified Firm.
d) Are They BBB Accredited?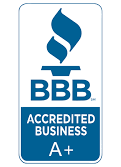 Also look for a companies who are accredited with an A or A+ rating from the Better Business Bureau (BBB) and who regularly offer biohazard cleanup as one of the cornerstones of their business. Disaster restoration companies that provide water and fire restoration, but also offer biohazard cleanup services, like death scene and trauma cleanup, asbestos and mold removal, and sewage cleanup are an excellent choice. Not only do these companies have the necessary equipment to effectively clean and disinfect properties against infectious viruses and diseases, but they also have long-term experience and job-specific training to do the job right. Check for BBB accreditation here.
e) How Do They Rate?


Read consumer reviews posted on sites like Google, Angie's List, the Better Business Bureau, and Facebook. Positive word-of-mouth referrals from people who have hired the company are also of great value. Lastly, don't forget to visit the company's website. A professional, well-designed website with helpful, relevant content says a great deal about what a company is all about and where they're heading in the future.
The post Beware of Using "Off-Label" Contractors to Disinfect Against COVID-19 appeared first on Single Source Disaster Recovery Specialists.